Who Are We and What Do We Offer?
Code Welding & Mfg. is a job shop that offers metal fabrication services and specializes in providing welded assemblies.  This is what we do best!
Our Vision Ahead – Built on Culture
A culture that delivers bottom line results creating wealth for our organization and its employees.  A culture that leverages technology and processes at specific times.
---
DUNS: 603276692 / CAGE: 5H5T9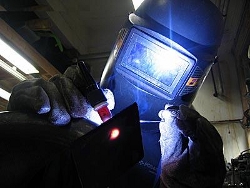 Code Welding & Mfg. Inc. provides fabricated metal products for the commercial or government sectors. We provide parts to customer specific requirements. With more than 20 years of fabrication experience in various core competencies, customers have come to expect high-quality workmanship associated with Code Welding.
Code Welding & Mfg. Inc. has an extensive background in welding to support customer-driven AWS standards. We also support government prime contractors' with their custom products. Whether mild steel, stainless steel or aluminum, our experienced associates take pride in delivering our mission.
Mission Statement
"We are committed to developing a culture that results in providing quality fabricated and machined parts that are correctly made, reasonably priced, and delivered on time to our customers."
We serve the specific needs of companies through our understanding of our customers' products and our ability to provide efficiencies for value toward our customers operations. In turn, we will earn a reputation of providing superior products by trust and integrity one company at a time.
---
Core Competencies
Welding
Shearing
Machining
Forming
Rolling
Sawing
Punching
Finishing
Fixturing
Additional Services
Laser/Water-Jet Parts
Stampings
Wet Paint/Powder Coating
Final Assembly
Plating, Polishing, Annodizing
Level III Testing
On-Site NDT Services
Level II MP & LP Testing
Certified Weld Inspector (CWI)
---